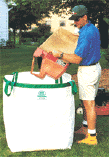 We opened the doors to The Product Factory in 1996, supplying contractor grade lawn maintenance products to landscapers. Our initial product, the LAWN BAGG™ , was offered in one size, the 27 Cu Ft. landscape model. Our customers were simply astounded by its size and versatility. As time went on, our customers realized the power of our bagg's, requesting smaller versions to satisfy a variety of lawn and garden activities.

Today, we carry several LAWN BAGG™ models ranging from 2 to 27 Cu Ft. We carry two styles of baggs, the Garden Series and the Lawn Series; The Garden Series comes in two sizes and the Lawn series comes in 4 sizes. The Garden Series baggs are designed for those smaller weeding and cleanup jobs typically found in and around your garden. Both of these baggs comes with a double bottom. The Lawn Series baggs are designed for a full range of lawn maintenance jobs; especially grass clipping collection, leaf removal and general tree pruning activities. One of our Lawn series baggs, the 22 cu ft model, comes with a double bottom to increase longevity. We are happy to report that our LAWN BAGG™ product line is now satisfying homeowners as well as landscapers.

Purchase quickly, easily and securely through our PayPal-enabled on-line store.

Or, if you prefer, you may purchase LAWN BAGG™ products through Amazon.com.



Remember, The Product Factory has "A Bagg for all Seasons".


We've Got New Products!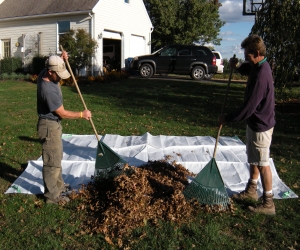 The Product Factory is proud to introduce three exciting new additions to our product family. Our woven polypropylene heavy gauge LAWN BAGG™ Tarp is puncture resistant and will not tear or shred like traditional tarps. We offer two sizes: 8x10ft and 10x12ft. Extra strength Double Layer versions are available in both sizes. For those really tough landscape jobs we now offer the Double-Bottom LAWN BAGG™ constructed with two layers of heavy gauge woven polypropylene material on the bottom. Just in time for the cooler months, our strong but lightweight LAWN BAGG™ Fire Tote will make transporting and storing firewood and kindling an easy, no mess affair. Visit our Online Store to learn more!